Introducing the 2021/22 Season
Watch our 30-second trailer: Looking Forward
"We are all looking forward to returning, to restarting, to reconnecting, and to rejoicing with our audiences and artists once again." — UMS president Matthew VanBesien.
or browse our season highlights below
For Our Patrons & Season Ticketholders
Season Tickets will be available online starting Monday, May 17 at 10 am. Learn more or flip through our interactive season brochure.
You are our top priority. UMS is fully committed to the health and safety of our audiences, and will provide all flexibility and accommodation possible in the months ahead.
See Our Safety Protocols for Live Events and FAQ
For the Press
View Full Press Release (PDF)
View Chronological List of Events (PDF)
Season Highlights
Five New Commissions
UMS is proud to continue its work as a lead commissioner of innovative new works presented in-person or digitally this season. Five projects include:
Focus on the Arab World and Its Diaspora
Artistic projects will focus on artists, institutions, and ensembles from the Arab World and its diaspora, exploring the depth, complexity, and diversity of perspectives among Arab and Arab-American artists and communities. Events feature:
Choreographer and theater maker Ali Chahrour's Layl (Night) (Sat Feb 12)
The National Arab Orchestra with singer Abeer Nehme (Sat Mar 19)
A celebratory evening of performances, Sahra, by violinist/composer Mike Khoury, choreographer Leyya Tawil, vocalist/producer/DJ Tammy Lakkis, and Moroccan performance group Kabareh Cheikhats (Sat Apr 9)
Mentioned above, Tarek Yamani's new work for string quartet, premiering digitally with the Spektral Quartet (Wed Oct 27)
Creative Partnership with The Philadelphia Orchestra
UMS is thrilled to begin a new 21st-century residency in the 2021/22 season, including two live concerts in Hill Auditorium led by Yannick Nézet-Séguin and Nathalie Stutzmann, a digital presentation, and engagements with the University of Michigan School of Music, Theatre & Dance. The Friday night concert features U-M alumna and principal tuba Carol Jantsch in Wynton Marsalis's Concerto for Tuba, which will have its world premiere in December.
The two organizations are also collaborating on a new semi-staged theatrical concert performance of Fiddler on the Roof, featuring the world premiere live performances of John Williams's Academy Award-winning 1971 adaptation of the beloved musical score by composer Jerry Bock. The production, which will feature both Broadway stars and U-M Musical Theatre students, will begin in Ann Arbor with the Grand Rapids Symphony and then transfer to Philadelphia, where the Philadelphia Orchestra will perform it at the Kimmel Center.
Octavia E. Butler's Parable of the Sower
UMS will present Toshi Reagon and Bernice Johnson Reagon's new work, Parable of the Sower, a triumphant, mesmerizing work of rare power and beauty that illuminates deep insights on gender, race, and the future of human civilization. The opera brings together over 30 original anthems drawn from 300 years of Black music to recreate author Octavia E. Butler's Afrofuturist masterpiece live on stage with 20 singers and musicians.
The "Return" of Performances Canceled due the Pandemic
Several events that were originally scheduled and canceled for the end of the 2019/20 season and the entirety of the 2020/21 season will be presented in 2021/22, and more will follow in the coming seasons as tours are rescheduled. Next season's program includes:
Digital Programming
During the pandemic, UMS's free digital presentations reached over 75,000 people in 65 countries across six continents. UMS has made a commitment to continue these digital programs, bringing the arts to those who may not be ready or able to return to live performances or whose geographic boundaries may prohibit in-person attendance. Programs will include:
JAM3A, a virtual music and arts festival celebrating Arab talent, community, and identity, presented by the Arab American National Museum (Thu-Sun Sep 23-26)
Tarek Yamani and the Spektral Quartet (world premiere Wednesday, October 27)
Cleo Parker Robinson's UMS Digital Artist Residency project, a documentary film about the creative process behind The Four Journeys, created by Amalia Viviana Basanta Hernández for Cleo Parker Robinson Dance (dates TBA)
Unmasking the Arts: Looking to the Future, a series of conversations between multidisciplinary artist Helga Davis and prominent artistic voices, including Anthony McGill, Wu Han, Yuval Sharon, and Rhiannon Giddens, about the intersection between the arts and contemporary issues in the post-pandemic world, including the role of the arts in the context of social justice, how politics play into evolving cultural values, and more (dates TBA)
Davóne Tines and The Philadelphia Orchestra in a suite of arias and poetry on themes of social justice (dates TBA)
Cloud Gate Dance Theatre of Taiwan (dates TBA)
2021/22 Season Preview: The Philadelphia Orchestra Returns
UMS will present our schedule for 2021/22 in-person performances on May 13! Each week until then, we will offer a special sneak peek…
---
UMS is proud to announce a new creative partnership with The Philadelphia Orchestra in 2022.
The Philadelphia Orchestra's rich history with UMS dates back more than a century, first performing in Hill Auditorium in 1913 and serving as the orchestra-in-residence for the Ann Arbor May Festival for nearly 50 years from 1936-1984.
We are thrilled to begin a new 21st-century residency in the 2021/22 season, featuring two live concerts in Hill Auditorium, a digital presentation, and a series of master classes and student engagement events with the University of Michigan School of Music, Theatre & Dance.
Enjoy a preview of what's to come before our full concert details are announced on May 13:
Two Exciting Programs in Hill Auditorium
Music Director Yannick Nézet-Séguin and newly appointed Principal Guest Conductor Nathalie Stutzmann (in her UMS debut) will each lead a unique program in Hill Auditorium. Soloists include Concertmaster David Kim and Principal Tuba Carol Jantsch (a proud U-M School of Music, Theatre & Dance alumna), who premieres a new concerto by Wynton Marsalis.
While in Ann Arbor, members of the orchestra will participate in a series of master classes and educational opportunities.
'Fiddler on the Roof' in concert
UMS and The Philadelphia Orchestra are collaborating on a new semi-staged theatrical concert performance of Fiddler on the Roof, featuring the world premiere live performances of John Williams's Academy Award-winning 1971 adaptation of the beloved musical score by composer Jerry Bock. The production, which will feature both Broadway stars and students from the University of Michigan's celebrated Department of Musical Theatre, will begin in Ann Arbor in February with the Grand Rapids Symphony and then transfer to The Philadelphia Orchestra's subscription series at the Kimmel Center.
Free Digital Presentation
Bass-baritone Davóne Tines and The Philadelphia Orchestra will perform a suite of arias by John Adams ("Shake the Heavens" from El Niño) and Anthony Davis (Malcolm's Aria from X: The Life and Times of Malcolm X), as well as a work that he co-wrote with Igee Dieudonné in memory of Breonna Taylor, in a digital program available to UMS audiences. Watch a preview:
Discover More on UMS Rewind
Browse through more than 250 programs by the Philadelphia Orchestra in our archives!
Planning for a Safe Return (May Update)
In early March, we shared initial findings from our Southeast Michigan audience research, administered by leading arts researcher WolfBrown and sponsored by CultureSource.
As part of the study, UMS and two dozen arts organizations across Southeast Michigan are surveying audiences every other month for updated insights into what they expect when returning to venues for live performances. In total, more than 300 organizations across the country are participating in this research.
Here is a summary of the latest we've learned from participating audience members (as of mid-April 2021):
The Vast Majority of our Audience is Already Vaccinated
As of April 16, 94% of UMS audience members surveyed are at least partially vaccinated (and 69% are fully vaccinated). These rates are consistent with arts attendees across the country who overall have an extremely high rate of vaccination. This is a significant increase since our February survey, as shown below:
Rates of vaccination are high across age ranges of surveyed UMS audience members:
Masking and Distancing Remain Important Issues
Consistent with our February survey, the three most important health and safety topics to audiences in thinking about a return to live, in-person performances remain:
Mask-wearing requirements
Distancing requirements & how seating will work
Ventilation quality and airflow
When 2021/22 Season Tickets go on sale, please note that seating will work slightly differently this year.
Because of the potential for seating capacity restrictions to change, we will assign both subscription and single ticket seats for individual performances no later than one month before each performance, based on the seating section and original order date.
Our production and patron services team are developing clear plans and protocols in consultation with public health officials at the University of Michigan, with additional guidance from the State of Michigan.
We promise that we will always prioritize health and safety as we move back to in-person events.
Michigan's April Surge Raised Caution
Given the April COVID-19 surge in Michigan, we are seeing more caution about when UMS audiences expect to return to live performances, with half indicating they will be ready to return in September, and 70% by December.
When UMS's full 2021/22 Season is announced in May, you will notice that our mainstage, indoor events are not planned to resume until the final weekend of November.
Audiences are Mostly Optimistic
When asked about long-term attendance of arts and cultural activities, 87% of UMS audience members surveyed in April indicated that they expect to attend events at a similar or increased frequency as they did pre-pandemic. This is slightly lower than the 90% recorded in our February survey, before Michigan's latest case surge.
Audience feedback included from the April survey included:
"I think it will be a matter of making up for the time we all missed during the pandemic. I think people will seize the day more than they used to, which means I would likely go to more exciting events than before."
"Basically, you don't know what you have 'til it's gone, right? The pandemic has made me realize that I want culture and music to be a bigger part of my life. And I want to help arts organizations recover from the financial impact of the pandemic."
"I am not comfortable attending large events seated next to people that may not have been vaccinated or not honoring physical distancing."
Digital Access Remains a Priority
More than half of UMS audiences (and more than 75% of UMS donors) have enjoyed digital programming over the past year; and 70% of surveyed audiences feel that digital will play a role in their future arts consumption.
As we approach the 2021/22 season, we want to assure you that our commitment to accessible digital events will continue, again at no cost. We're planning for a variety of digital experiences: some that will enhance our live events and some that will stand alone in the digital space — with a few surprises along the way.
---
Remember, your voice is important to us!
If you receive an invitation to participate in an upcoming return to theaters survey from UMS and other presenters, please consider doing so! These surveys are happening across two dozen arts organizations in Southeast Michigan, allowing us to gauge perceptions across the region and helping us plan for what is most important to you as we move forward.
2021/22 Season Preview: A MoodSwing Reunion
UMS will present our schedule for 2021/22 in-person performances on May 13! Each week until then, we will preview a new program.
---

Redman | Mehldau | McBride | Blade
Celebrated tenor saxophonist and composer Joshua Redman's 1994 album MoodSwing introduced his first permanent band, an astonishing collection by four precociously talented musicians who would rapidly establish themselves as creative beacons.
After years of individual triumphs, Redman reunites the original group — pianist Brad Mehldau, who won the 2020 Grammy for "Best Jazz Instrumental Album," bassist Christian McBride, and drummer Brian Blade — for an unforgettable performance of brand new material alongside signature work that showcases Redman's "musical breadth, emotional depth and intellectual savvy." (Chicago Tribune)
We're delighted to bring this celebrated quartet — originally scheduled to perform in October 2020 – back to the Hill Auditorium stage.
Date and time for A MoodSwing Reunion will become available when the full 2021/22 season is on announced on May 13.
---
About the Artists
Joshua Redman
Joshua Redman is one of the most acclaimed and charismatic jazz artists to have emerged in the decade of the 1990s. Born in Berkeley, California, he is the son of legendary saxophonist Dewey Redman and dancer Renee Shedroff. At an early age, he was exposed to a variety of music and began playing clarinet at age nine before switching to what became his primary instrument, the tenor saxophone, one year later.
In 1991 Redman graduated from Harvard College summa cum laude, Phi Beta Kappa, with a B.A. in Social Studies. He had already been accepted by Yale Law School, but deferred entrance for what he believed was only going to be one year. In November of that year, five months after moving to New York, Redman was named the winner of the prestigious Thelonious Monk International Saxophone Competition.
His second recording, MoodSwing, was released in 1994, introducing his first permanent band, which included three other young musicians who have gone on to become some of the most important and influential artists in modern jazz.
Redman has performed on UMS stages 4 times, appearing with Jazz at Lincoln Center Orchestra, Joshua Redman Quartet, SF JAZZ Collective, and The Bad Plus Joshua Redman.
Brad Mehldau
Grammy Award-winning jazz pianist Brad Mehldau has recorded and performed extensively since the early 1990s, with his trio, and as a solo pianist. His performances convey a wide range of expression. There is often an intellectual rigor to the continuous process of abstraction that may take place on a given tune, and a certain density of information. That could be followed by a stripped-down, emotionally direct ballad. Mehldau favors juxtaposing extremes. He has attracted a sizeable following over the years, one that has grown to expect a singular, intense experience in his performance.
In addition to his trio and solo projects, Mehldau has collaborated with a number of influential jazz musicians, including with Joshua Redman, with Pat Metheny, Charlie Haden, and Lee Konitz, and has recorded as a sideman with the likes of Michael Brecker, Wayne Shorter, John Scofield, and Charles Lloyd. For more than a decade, he has collaborated with several musicians and peers whom he respects greatly, including guitarists Peter Bernstein and Kurt Rosenwinkel and tenor saxophonist Mark Turner.
Mehldau's trio has been presented 3 times by UMS, in 2001, 2005, and 2008.
Christian McBride
Raised in Philadelphia, a city steeped in soul, McBride moved to New York in 1989 to pursue classical studies at the Juilliard School. There he was promptly recruited to the road by saxophonist Bobby Watson. In 2000, McBride formed of what would become his longest-running project, the Christian McBride Band (CMB). Praised by writer Alan Leeds as "one of the most intoxicating, least predictable bands on the scene today," the CMB—saxophonist Ron Blake, keyboardist Geoffrey Keezer, and drummer Terreon Gully—have been collectively evolving McBride's all-inclusive, forward-thinking outlook on music through their incendiary live shows.
Currently, McBride hosts and produces The Lowdown: Conversations With Christian on SiriusXM satellite radio and National Public Radio's Jazz Night in America, a weekly radio show and multimedia collaboration between WBGO, NPR, and Jazz at Lincoln Center, showcasing outstanding live jazz from across the country.
McBride has performed on UMS stages 4 times, most recently with Chick Corea and Brian Blade in 2019.
Brian Blade
A native of Shreveport, Louisiana, Brian Blade established himself as a versatile, accomplished drummer early in his career, appearing on albums by the likes of Joshua Redman, Kenny Garrett, and Bob Dylan. Blade released his first album, Brian Blade Fellowship, at the age of 27 in 1998 and followed two years later with Perceptual, both on Blue Note.
Always an in-demand sideman and collaborator, Blade continued to find work with a varied bevy of artists, including Joni Mitchell, Bill Frisell, Wayne Shorter, Norah Jones, Daniel Lanois, and Emmylou Harris. Ten years after releasing his first album as the Brian Blade Fellowship, Blade returned with Season of Changes in 2008. A year later he released the Americana-influenced Mama Rosa, his debut as a singer/songwriter.
Blade has performed on UMS stages 4 times, most recently with Chick Corea and Christian McBride in 2019.
2021/22 Season Preview: Parable of the Sower
"All that you touch you change. All that you change changes you. The only lasting truth is change." — Octavia E. Butler
Based on Octavia E. Butler's novel of the same name, Parable of the Sower is a triumphant, mesmerizing work of rare power and beauty that illuminates deep insights on gender, race, and the future of human civilization.
This opera brings together over 30 original anthems drawn from 200 years of Black music to recreate Butler's Afrofuturist masterpiece live on stage. With music and lyrics composed by Toshi Reagon, whom Vibe Magazine called "one helluva rock'n'roller-coaster ride," and Bernice Johnson Reagon, the iconic singer, scholar, activist, and founder of Sweet Honey In The Rock, this compelling work gives life to Butler's acclaimed post-apocalyptic science fiction novel of the same name. This genre-defying work is filled with hope and human connection and features a powerhouse ensemble of 20 singers and musicians.
About Octavia E. Butler and the 'Parable' Series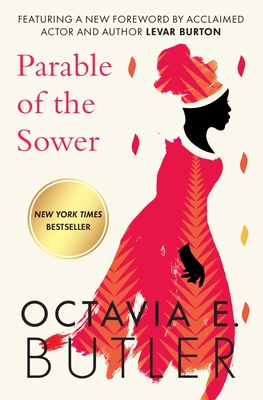 Octavia E. Butler was a renowned African American author who received a MacArthur "Genius" Grant and PEN West Lifetime Achievement Award for her body of work. Born in Pasadena in 1947, she was raised by her mother and her grandmother. She was the author of several award-winning novels including Parable of the Sower (1993), which was a New York Times Notable Book of the Year, and Parable of the Talents (1995), winner of the Nebula Award for the best science fiction novel published that year. She was acclaimed for her lean prose, strong protagonists, and social observations in stories that range from the distant past to the far future. (octaviabutler.com)
Listen to an archival broadcast with Octavia E. Butler in NPR's recent feature:

Both novels are available for purchase through Literati Bookstore.
About the Artists
Toshi Reagon
Toshi Reagon is a one-woman celebration of all that's dynamic, progressive, and uplifting in American music. Since first taking to the stage at age 17, this versatile singer-songwriter-guitarist has moved audiences of all kinds with her big-hearted, hold-nothing-back approach to rock, blues, R&B, country, folk, spirituals and funk.
Bernice Johnson Reagon
For more than a half-century,  Bernice Johnson Reagon has been a major cultural voice for freedom and justice; she sings, teaches, and speaks out against racism and organized inequities of all kinds. Reagon's life and work supports the concept of community-based culture with an enlarged capacity for mutual respect: for self, for those who move among us who seem to be different than us, for our home, and for the environment — including the planet that sustains life as we know it.
2021/22 Season Preview: EDEN with Joyce DiDonato and Il Pomo d'Oro
UMS will present our schedule for 2021/22 in-person performances on May 13! Each week until then, we will preview a new program.
This Earth Day, UMS proudly announces a visionary co-commission on themes of nature and the environment starring Joyce DiDonato.
Following her recital performance of Schubert's Winterreise with pianist Yannick Nézet-Séguin and as part of her UMS Digital Artist Residency during the 2020/21 season, mezzo-soprano Joyce DiDonato turns her creative vision and artistry to her next great passion: EDEN.
Watch Joyce's message about the new project (60 seconds):
Exploring the majesty, might, and mystery of Nature through both arresting and evocative music and theatrical effects, Joyce takes us on an emotional journey to reconnect to the power and fragility of Nature, exploring our place within the kaleidoscopic, wondrous world around us.
Joined by the original instrument ensemble Il Pomo d'Oro and Maxim Emelyanychev, as well as the French stage director Marie Lambert, Joyce will perform a wide-ranging program cycling from Handel to Ives, Gluck to Mahler, inviting the audience to consider their own place in the world…and perhaps to even change it.
Date and time for EDEN will become available when the full 2021/22 season is announced in May.
About the Artists
Joyce DiDonato
A multiple Grammy-winner, mezzo-soprano Joyce DiDonato is a transformative presence in the arts whose healing approach to music has taken her beyond the world's great opera stages to educational institutions, refugee camps, and maximum-security prisons. She has appeared on UMS concerts three times in the past several years, including in the lead role in Handel's Ariodante, with pianist Yannick Nézet-Séguin in Schubert's Winterreise, and again with Nézet-Séguin and his Orchestre Métropolitain de Montréal in November 2019. She is an exclusive recording artist with Erato-Warner Classics.
Il Pomo d'Oro
The ensemble il Pomo d'Oro was founded in 2012. It is characterized by an authentic, dynamic interpretation of operas and instrumental works from the Baroque and Classical period. The musicians are all well-known specialists and are among the best in the field of historical performance practice. The ensemble so far worked with the conductors Riccardo Minasi, Maxim Emelyanychev, Stefano Montanari, George Petrou, Enrico Onofri Francesco Corti and Antonello Manacorda. Concertmaster Zefira Valova leads the orchestra in various projects. Since 2016 Maxim Emelyanychev has been its chief conductor, and since 2019 Francesco Corti is principal guest conductor.
Marie Lambert
French director Marie Lambert as born in France and grew up in Paris and England. She studied literature in Paris and Bologna and directing at La Scala, Milan. Lambert has worked for dozens of opera houses throughout her career, including the Royal Opera House, Glyndebourne Festival, and Welsh National Opera in the UK, La Scala and the Maggio Musicale in Italy, as well as the major companies in Barcelona, Paris, Vienna, Brussels, Chicago, San Francisco, Brussels, Lyric Opera of Chicago, San Francisco Opera, and many other music capitals around the world.
---
Joyce DiDonato's recent collaborative albums with Il Pomo d'Oro include In War & Peace — Harmony through Music (2016) and Handel: Agrippina (2020).
Listen on:
2021/22 Season Preview: HOME
UMS will present our schedule for 2021/22 in-person performances on May 13! Each week until then, we will preview a new program.
"HOME is a really special way to end next season, especially given what our living spaces have come to mean over the past year."
— Mary Roeder, UMS Programming Manager
Geoff Sobelle's HOME premiered in 2017 at the Philadelphia FringeArts Festival and has received national and international acclaim. UMS staff first experienced the work in-person at the 2018 Edinburgh International Festival, and programmed its Ann Arbor debut for the end of our 2019/20 season. While our final two months of performances had to be put on hold due to the pandemic, we are thrilled to present HOME in the 2021/22 season.
What makes a house a home? In a little less than two hours on the Power Center stage, you'll find the answer to that question both literally and metaphorically.
It starts with an empty stage, and with the speed of time-lapse photography, absurdist theater artist Geoff Sobelle builds an entire house, then shows what it means to make a house a home. The seven performers embody generations of characters who have inhabited the house throughout its lifecycle, using remarkable feats of stagecraft to capture all of the drama of everyday life. This breathtaking spectacle of physical theater — illusion, choreography, storytelling, and live music  — is a house party like no other; witty and insightful, it is a life-affirming meditation about our relationship with our living spaces and the relentless passage of time.
Dates and times for HOME will become available when the full 2021/22 season is announced in May.
Artist's Statement
I work in collaborative theater-making, because I believe that the really good stuff doesn't come from the writer's room — it comes from the space. It comes from designers and performers leaning into one another to create theatrical moments beyond language that we could only have found by tuning into one another, staying present, and encountering something artful right then and there. It comes from listening.
In creating a work for theater, I identify a theme or philosophical point of entry into which I want to pour myself; in this case, the concept of "home," and then I try to couple a theatrical form that will unearth some poetic potential latent in the theme. In this new work, I aim to work in two disciplines. The first is technical: working with illusion and inventive set design to build and age a house onstage before your eyes. The second is intimate: I will work with unprepared audience members as performers. They will respond to instruction that will be given them in a variety of ways: through writing, headphones, and the guidance of other performers. We will see their daily rituals, and hear their own reflections of houses they've lived: a "live documentary."
The creative process began by working with my sister, a noted academic who is an expert on the literature of houses and the poetics of architecture. We looked at the psychological and mythic spaces of houses and examined images and themes that we wanted to explore for the whole process. We then began the devising process, which has included designers and builders as well as performers.
This collaborative process allows space for my collaborators to follow what is interesting to them. The work will allow space for the audience to dream — to fill the work with their own lives and memories, thus enacting the experience of living in and creating a home. As always, I do not know what the end result will be! Other than it usually ends up quite different from where I begin.
— Geoff Sobelle
2021/22 Season Preview: A new work by Kyle Abraham and Jlin
UMS will present our schedule for 2021/22 in-person performances on May 13! Each week until then, we will preview a new program.
This week, we're delighted to announce a collaboration co-commissioned by UMS with the Mostly Mozart Festival, Lincoln Center, and Stanford Live.
The work, titled Requiem: Fire in the Air of the Earth, features choreographer Kyle Abraham and pioneering producer, composer, and EDM artist Jlin. It explores death, folklore, and reincarnation through a reimagining of Mozart's Requiem as an electronic dance score that memorializes ritual, mourning, and rebirth.
Watch an excerpt of the work and a conversation with the creators, filmed and edited in January at National Sawdust as part of their FERUS Festival:
Dates and times for Requiem will become available when the full 2021/22 season is announced in May.
About the Artists
Kyle Abraham
Dancer, choreographer, and founder of A.I.M, Kyle Abraham has been heralded by OUT magazine as one of the "best and brightest creative talents to emerge in New York City in the age of Obama." Abraham founded A.I.M in 2006, drawing inspiration from 1970s hip-hop culture and grounding the work in his artistic upbringing in classical cello, piano, and the visual arts. The company represents dancers from various disciplines and diverse personal backgrounds.
Through his company and choreography, Abraham seeks to represent Black culture and identity:
"I'm often thinking about what stories or reality I'm putting on stage. How is the work viewed, and who's relating to my version of storytelling? These questions — especially important as the nation grapples with issues such as the killing of unarmed Black men and women and problems of mass incarceration — have been at the forefront of my choreographic identity since I was first exposed to dance at the age of 17 in my hometown of Pittsburgh."
Abraham and A.I.M are, perhaps, best known for their work Pavement, which draws inspiration from John Singelton's 1991 movie Boyz n the Hood and W.E.B. DuBois's 1903 work The Souls of Black Folk. Reimagined as a dance work and now set in Pittsburgh's historically black neighborhoods, Homewood and the Hill District, Pavement aims to create a strong emotional chronology of a culture conflicted with a history plagued by discrimination, genocide, and a constant quest for a lottery ticket weighted in freedom.
Jlin
One of the most prominent female producers of the current generation, Jlin grew up in Gary, Indiana, just 20 miles from downtown Chicago. Though her work often draws inspiration from footwork, a house music/street dance tradition originating in Chicago in the 1990s, her music defies categorization. Her albums Dark Energy and Black Origami, released in 2015 and 2017, were met with nearly universal acclaim.
In both her solo and collaborative work, Jlin's production is deeply rooted in dance. Her music videos often center around movement, including her video for "Carbon 7 (161)," which was choreographed by ballet dancer Corey Scott-Gilbert. Additionally, Jlin frequently collaborates with interdisciplinary movement artist Avril Stormy Unger.
In 2017, Jlin produced music for British choreographer Wayne McGregor's piece Autobiography. About the process of writing for contemporary dance companies, she notes, "Although they're both based in dance, footwork and ballet come at it from completely different directions, so they don't really have all that much in common…I've always been attracted to contemporary dance – I like the way that someone can nod their head, blink their eyes, or hold their hands, and it can tell a story."