Take a Photo of our UMS Bus Ads and Win!
There's a little more UMS throughout town. We're excited about our new outdoor AATA bus advertising featuring some of the artists on the 2012-2013 season. In fact, we're so excited, we're inviting you to play a game.
Take a picture of one of our UMS bus advertisements and enter to win UMS gift certificates, goodies, and iTunes gift cards. 
How to enter:
Send in a photo of one of our UMS bus advertisements; make sure to include where you saw the photo. Submit in one of three ways:
(1) On Facebook, upload your photo and tag it with our UMS Facebook page during the contest period. (How to tag a photo)
(2) Tweet your photo to us by including @UMSNews in your tweet during the contest period. (How to tweet a photo)
(3) Email your photo to annavp@umich.edu with subject "Photo Contest Entry"
There are 13 different ads. First person to enter a new ad gets two entries in the raffle.
Eligibility: Only open to @UMSNews followers on Twitter, fans of UMS on Facebook, or subscribers to UMS e-news.
Contest period: Wednesday, September 5 – Friday, September 21 at Noon.
Winners: Two rounds of winners will be randomly selected by 5PM Friday, September 14th & 21st. Winners will be contacted via Twitter, Facebook, or email respectively, and if winners do not reply within 5 days, new winners will be declared.
Prizes: 2 $100 UMS gift certificates (must be used this season), as well as UMS water bottles, T-shirts, totebags, and iTunes gift cards.
Got questions? Ask in comments below.
A note from Ken: 50 Years ago on the White House Lawn…
1. Close up of President Kennedy welcoming Interlochen founder and conductor Joseph E. Maddy, the Interlochen orchestra and dancers to the White House, 08-06-1962. 2. Interlochen dancers at the White House. This photo appeared on the front page of The New York Times on August 7, 1962.
Dear UMS Lobby Readers,
50 years ago today I was one of 117 lucky Interlochen Arts Camp orchestra members (French horn) and dancers who performed on the White House Lawn for President Kennedy and an audience of young people. Our hosts were the children of Kennedy Cabinet members. Our conductor was Interlochen founder and president, Dr. Joseph E. Maddy, and the program represented works by composers from many nations.
1. Interlochen dancers at the White House, 08-06-1962 performing Johann Strauss's "Emperor's Waltz." 2. Interlochen campers having lunch on floor of East Room of White House with the children of Kennedy cabinet members. We picked up a plate of spaghetti in the State Dining Room and walked to the East Room, 08-06-1962.
Before the concert, President Kennedy gave a 5-minute speech on the importance of the arts in America and delivered it without any notes. I've attached the speech to this message. After the concert he greeted us in the Rose Garden and invited us to enjoy a spaghetti lunch sitting on the parquet floor of the East Room. My lunch companions were Kathy McNamara, daughter of the Secretary of Defense, and Peggy Rusk, daughter of the Secretary of State. An unforgettable experience!
Kennedy's speech is really terrific. Take five minutes to listen to it.
President Kennedy speaking at the White House, 08-06-1962
Best,
Ken
Dispatch from Dublin on Easter
Editor's Note: Mary Roeder works in Education & Community Engagement at UMS and is also our resident jet-setter and theater expert. We'll occasionally feature some of her adventures here on the Lobby.
[Note from Mary: I started writing the blog post in April, after making a promise in March that I would do it. I ignored it for much of May and here it is now June. It's a good thing I don't rely on getting paid for my thoughts—a penny or otherwise, else I'd be homeless by July.]
The month of April flew by (pardon the pun, even though I'm the only one who gets that this is a pun at this point). Maybe it had something to do with crossing time zones a few too many times, spending a bit too much time above 30,000 feet, and definitely waaay too much time in JFK's Terminal 2. I'm not complaining though. I had a whirlwind month of travel that took me to, among other places, Dublin, New York, Montreal and Austin, Texas. Would you like to hear a little bit about what I did and what I saw? Rhetorical questions are so much fun!
Easter in Dublin!
I have been trying to get to Ireland for awhile. To say I have romanticized the heck out of this place is an understatement. Well, I finally made it, and I really couldn't have picked a better time. Thanks to the alcohol ban during the Easter weekend, I got to see what the city looks like underneath all of the clichéd debauchery I've been programmed to assume is ever-present. It's definitely risen to the top of my list of favorite places…you know, the ones where you just breathe a little easier and sort of resonate at the same frequency (the Oregonian Portland reigns supreme on this one). Add in the fact that I had my own personal tour guide, a local who also has a penchant for the theater/re, and it was a pretty fantastic weekend all around.
I landed early Good Friday, hopped aboard the Airlink express bus and made my way into the city where, thanks to a mercifully early check-in, I promptly fell into a deep jetlag coma until 1pm local time. That night I saw Pan Pan's production of A Doll House (note the lack of the 's after Doll is intentional). Pan Pan is a Dublin-based company that, according to co-founder Gavin Quinn "is interested in…[making] theatre like the French model of theatre art, as opposed to the craft of making theatre."
I first saw Pan Pan this past November when our pals down in Columbus at the Wexner Center presented their show, The Rehearsal, Playing the Dane (note that I've checked the OSU/U-M rivalry at the door. The arts build bridges, people). The cool thing I remember about seeing that show at Wex (other than the fact that there was an actual Great Dane onstage) was that it was littered with references to Beckett's Endgame which UMS had just presented a couple weeks prior—and thank goodness, because I certainly wouldn't have gotten it otherwise (note that there was another pun there. The stage in the second half of the Pan Pan show was covered with trash cans. Littered. Anyone?).
Ok, back to A Doll House. I saw this show in the Smock Alley Theatre, which, from what I understand, is the oldest officially sanctioned theater in Dublin. There's a fascinating history to the building spanning centuries. The theater as it currently exists is brand new—A Doll House was actually the first show housed in the new space, so needless to say, I feel really lucky to have been there.
I would return to Smock Alley the following evening to see a performance by a young theatre collective called Collapsing Horse. Their puppet/comedy/musical production of Monster/Clock had a charming handmade feel, and featured Jack Gleeson of HBO's Game of Thrones fame where he plays the role of a seriously annoying young prince.
The third production I saw was Alice in Funderland, produced by THISISPOPBABY at the Abbey Theatre. Oh, my…where to start on this one. Alice in Funderland was the first musical to be produced at the Abbey in 20 years. Those of you who know me are likely well aware of my complete and total aversion to most musical theater. Most. There are a few select asterisked members of the genre for which I have great affinity, and I loved this one more than I care to admit. I can actually still hum the main thematic tune, and could even sing a few words if pressed (please don't ask though). As the title suggests, it's a take on Alice in Wonderland, this version's heroine a girl from Cork who visits an unhinged version of Dublin inspired by contemporary Irish life. I have to say, a fair bit of the most laugh-inducing moments escaped me, references to parts of the Irish experience I as an American couldn't truly understand, but it didn't matter. It had me at its disco ball/club beat-infused entr'acte, and if I could be a bit further convinced that its message could stand more universally outside of Ireland , I'd be first in line to bring it stateside if ever the opportunity arose. Check out this video interview here with its creators and some choice excerpts featuring my favorite character (I think he was everyone's favorite character, actually).
Montreal and New York and Austin are going to have to wait. My hands are cramping.
Voices in the Community: Home School Students & Youth Performances
Photo: Dancing on stage at the Rebirth Brass Band Youth performance. Photo by Mark Gjukich Photography.
We love offering youth performances throughout our season.
The performances are attended by classes of students, but home-schooled students also get together in groups in order for the performances. We asked a few of the home-schooled families to talk about their experiences.
One family attended a performance in February:
The Chamber Ensemble of the Shanghai Chinese Orchestra was fantastic!  We didn't really know what to expect going into it. We thought it would be relaxing, and interesting and that it would likely make us hungry for Chinese food, all of which it did. But, it was so much more!  The personality delivered through the voice of the director and the enthusiasm of the performers transcended any language barrier. The explanations and stories that were shared before each piece transformed the music and gave it an ethereal beauty. It's effect remained with us throughout the day.  It has forever changed the way we will enjoy Chinese music; we will always be listening to see if we can guess at the story that the instruments are telling.  As homeschoolers we strive to take every advantage of the cultural benefits that so enhance the learning experience.
Another family attended two youth performances in one day:
When the subject of Maya, our 13 year old comes up in conversation, questions about home school often arise.  Volumes have been spoken and written about the potential of home schooling and why so many do it with such passion.  High on my list of "whys" is evidenced by the kind of day we had with the help of our friends at UMS.
We live, work and raise our children in a community that connects with the arts in ways that few other cities are fortunate to enjoy. In no small measure this is why we are the community we are.  On February 10th UMS sponsored two widely divergent but equally compelling musical performances.  We've been attending UMS youth performances for years with a home school group. It wasn't a matter of if we would attend but which of these two performances, scheduled 1 hour apart, we would choose. With the help of the UMS volunteers, we chose both.
Our home school group was graced by a lively and culturally illuminating hour of traditional Chinese chamber music. The charming director of the Shanghai Orchestra and his translator did a terrific job of educating and entertaining.  Just as the last applause died away the UMS team dismissed us first and we were off.  We entered Hill Auditorium and were whisked to our section just in time for the opening applause as Conductor Morgan took the stage to lead the Sphinx Orchestra.  Whew.  Now for something completely different and equally joyful and enriching.  The Sphinx laureates were inspiring in their virtuosity and presence. I am glad not to have had to do the judges work… and equally glad not to have had to make the choice between these extraordinary musical events.
Bonus Video: Chamber Ensemble of the Shanghai Chinese Orchestra also visited Logan Elementary:
Do you remember attending arts events or performances as a student? What effect do you think these experiences have?
Gesualdo: Rebel or Rogue? [with Audio]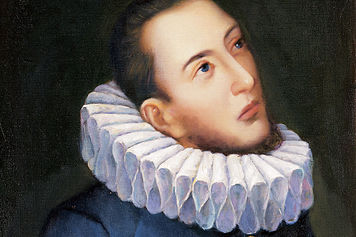 On February 16, at 7:30 p.m. at St. Francis of Assisi Church, the University Musical Society presents the Tallis Scholars. This British group of about ten singers has spawned a whole industry of a cappella ensembles that aspire to sonic purity, contemplative calm, timelessness. What could the Tallis Scholars—Scholars!—possibly have to do with this season's Pure Michigan Renegade Series, of which they are a part?
Let's start with the gruesome facts associated with the composer at the center of the night's program. Carlo Gesualdo (1566?–1613), the nephew of Counter Reformation enforcer Carlo Borromeo, was a prince and landholder in Venosa in southeastern Italy. Around 1588 his wife, the noblewoman Donna Maria d'Avalos, began an affair with a gentleman in the vicinity. In 1590 Gesualdo, using wooden copies of room keys he had had made, found the pair in bed together, stabbed them both, and hung their corpses in front of his castle for all to see. The story was retold repeatedly by poets of the day in a sixteenth-century equivalent of headline news.
Gesualdo, as a nobleman, was immune to prosecution, although he had plenty to fear from the relatives of his wife and her lover. He was never arrested, but he spent most of the rest of his life either on the road, investigating new musical developments, or, later on, locked up in his castle, writing music for concerts at which he himself was the audience.
The madrigals he wrote during his later years lay buried for three hundred years, but they fascinated musical modernists who unearthed them. Filled with hyper-expressive settings of texts about searing jealousy and betrayal, they seemed to push the boundaries of dissonance that was possible under the rules of Renaissance polyphony, and to anticipate music that was centuries in the future. The first performers of the madrigals, in fact, were mostly not early music specialists but the group of performers led by Robert Craft, the prominent American champion of Igor Stravinsky's music.
Gesualdo wrote less sacred music, but the Tenebrae Reponsories ("tenebrae" means "shadows" and refers to Christian services celebrated in the days before Easter; a responsory is a setting of a text that contains an answering section) that he composed at the end of his life are among his very greatest works. In these pieces the thorny question of how Gesualdo's life and music are related reaches an especially sharp point. Consider this setting of "O vos omnes" composed by Gesualdo in 1611, two years before his death:
"O vos omnes qui transitis per viam, attendite et videte si est dolor similis sicut dolor meus," says the responsory text—"O you who walk down the road, pay attention and see whether there is any sorrow like my sorrow." The text comes from the Lamentations of the Prophet Jeremiah and originally described the sack of Jerusalem in the sixth century B.C.E. It was repurposed for the Passion story. But it's hard not to think of Gesualdo himself as the subject when the words "similis sicut dolor meus" are repeated in tonal regions unthinkably distant from the piece's home base.
*****
Was Gesualdo really a renegade as well as a murderer? Was he even a "modernist" of his time? Some would say no — his chromaticism did not lead to a new language but only explored the strangest corners of an old one. The truly new music of the first decade of the 1600s was opera, which he did not touch. Gesualdo's music was closed up in an emotional hothouse, and one word that's been used to describe it is Mannerist — looked at from a certain angle, the jarring contrasts in his works were musical equivalents of El Greco's light and shade. Or perhaps his artistic counterpart was Giuseppe Arcimboldo, the Italian who painted surreal human heads made up of vegetables, plants, and even books.
Photo: Giuseppe Arcimboldo's Vertumnus.
What is a renegade, anyway? Does change in the arts come from an avant-garde, or does it bubble up from below? Do musical traditions tend to shock most when they begin, or when they're coming to an end?
Whatever your ultimate answers to these questions may be, the music of Don Carlo Gesualdo has lost none of its ability to shock as it enters its fifth century of existence. If you've never heard Gesualdo at all, or if you know him only through the few tortured madrigals that circulate among college singing groups, hear how the language of his last years was refracted through sacred texts in the magnificent Tenebrae Responsories, somber Holy Week thoughts from a prince whose life and music intertwined in profound ways.
Oh goodness me!  I'm back in Edinburgh!  During the Fringe!  The largest arts festival in the world!  It's been 9 years exactly since my last (and first) visit, when I came as part of the American High School Theatre Festival.  A recent high school graduate at the time, I was tasked with running the light board for a musical version of the Ugly Duckling called Honk! Yikes!  (This is reminding me that my 10 year high school reunion is nigh.  Double yikes!!)
I arrived only yesterday, but I feel like I've been here for ages.   That's what happens when something literally takes over a city.  If you've never been, the Fringe is to Edinburgh as a football game at the Big House is to Ann Arbor.  But sustained for a month!  The energy is at an all-time high from morning 'til, well, it never stops!
I've seen exactly 8 shows as of now, 11:37pm local time, Monday, August the 22nd.  6 of them today.  Yes.  6.  And some of them more "experience" than "show."  Here's a little taste.
The first show I saw was the National Theatre of Scotland's The Strange Undoing of Prudencia Hart at the Ghillie Dhu, a local pub.  Written by playwright David Grieg, the story follows an uptight academic named Prudencia as she travels out of town for a conference, and learns to loosen up along the way.  How this happens is the crux of the action, the fun, and the heartache, some of which can be seen in this youtube video.  The National Theatre of Scotland has had some hits on their hands as of late—most recently in the U.S. with their production of Black Watch. If the buzz surrounding this one at the Fringe is any indication, you just might see this one at a pub near you.  I sure hope so.
Today's marathon of shows included the premiere of a work in progress called A Reply to Kathy Acker: Minsk 2011 by incendiary political theater-makers, Belarus Free Theatre.  BFT was founded in 2005 by a husband and wife team in response to the pressure and censorship of Europe's last surviving dictatorship.  Under constant threat of persecution, the group's rehearsals and performances are often held in secret , and have at times been broken up by police.  In their short history, members of the company have faced harassment, beatings, and even arrest.  In this piece, the audience was given a glimpse into Minsk today from the artists' perspective.  And it was, in a word, brutal.  They're a brave group.  And their acting is likewise brave.  It'll be interesting to see how the work develops.
Later in the evening, I was able to catch David Leddy's newest work called The Untitled Love Story. Some of you may remember David's Susurrus made an appearance in Ann Arbor this past year out at Matthaei Botanical Gardens.  Though this piece was housed in a more traditional theatrical setting, the hallmarks of David's style of writing rang loud and clear.  His knack for weaving seemingly disparate storylines into one cohesive production is astounding and the story all the more powerful because of it.  And, as with Susurrus, the use of music is crucial—and used to great effect.   Here are the basics:  the setting is Venice.  The characters are known only as the Collector, the Historian, the Priest, and the Writer—two men and two women who have all suffered/will come to suffer great loss.  It's not all sad though!  I promise!
The night ended with a short 15 minute "live video" experience for one called And the Birds Fell From the Sky by Brighton-based Il Pixel Rosso.  In a nutshell, I joined a group of nomadic criminal clowns (collectively known as the Faruk) for a car ride.  Crimes were committed.  Birds fell from the sky.  I was supremely freaked out.  And I totally loved it.  Logistically, it involved an impressive pair of video goggles synced up with an in-ear audio track.  An actor unseen to the audience member provided the other tactile sensations—smells, touch, movement .  All in all, a deep and bizarre Fringe experience.  The best kind.
* * *
Have you been to the Fringe? Are you at the Fringe now? Share your experiences below.
Merce Cunningham Dance Company in Ann Arbor (Recap)
For those who enjoyed the Merce Cunningham Dance Company's final UMS appearance in February, don't miss this recap of all the residency activities the company participated in while they were in Ann Arbor.
11/12 Series Brochure – view the digital version!